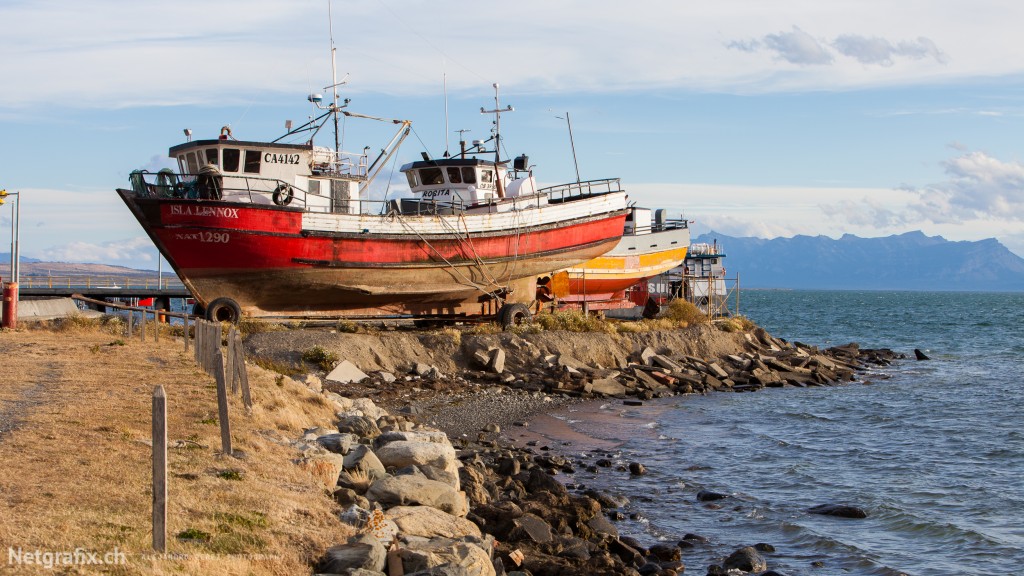 It is in this quiet little harbor with colourful wooden houses (nice photography subjects) that really begins the discovery of the wild Chilean Patagonia. Very busy during the austral summer, 18h daily light, Puerto Natales has no great interest in itself, but is located at the edge of a fjord and facing the lasts – and superb – Andean mountains. From there, you can reach the Balmaceda and Serrano glaciers. But above all, Puerto Natales is the gateway to the spectacular Torres del Paine National Park.
Photography and Wind
From the photography point of view, landscapes photography is the thing here. For those who are looking for long exposure shots filled with cloud yarns in the sky, they will not be disappointed, the strong Patagonian wind will be their friend here. Bring-in the neutral density filters and tripod! Remember though to secure your tripod with a ballast bag, the wind can dehorn an oxen here! Another tip: bring your sensor cleaning set. Your camera will easily take dust during lens changes due to the same wind. After taking the pulse of the city, take a walk to the port to admire the Andes and the fjord. The young inhabitants of Puerto Natales come here to skate and bike on the vert ramp.
Housing
I chose Casa Cecilia, which is near Plaza 1 de Mayo. This hostel is run by Werner, a former swiss german backpacker installed in Puerto Natales since the early 90s and the adorable Chilean Cecilia. The service is impeccable, they help you plan your stay, your visits, rooms and bathrooms are spotless. There is also a patio were you can meet other travellers. A kitchenette is also available for preparing meals for your excursions. English, Spanish and French is spoken. Booking in advance is highly recommended.
Link : http://www.casaceciliahostal.com
A good tip for eating in Puerto Natales ?
Any good pizza in Chile? Yes it is possibe and even deep in the Patagonia! One address : 'Mesita Grande' next to the 1 mayo plaza. Hang your coat parka and sit at one of the two large wooden tables. Share shoulder to shoulder in a friendly atmosphere, nothing better to exchange good tips to prepare your trip to Torres del Paine.
Link : http://www.mesitagrande.cl