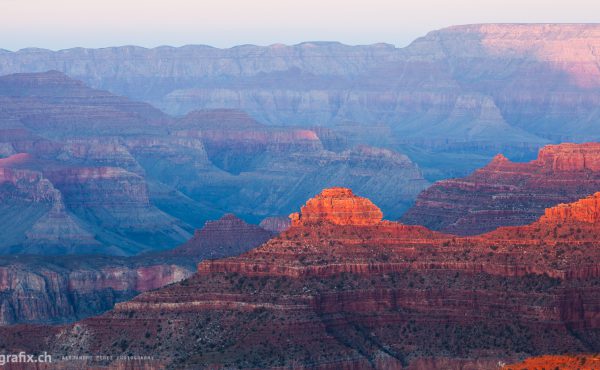 The Colorado Grand Canyon is certainly the most famous and amazing park in the USA. It is in any case the most visited park of the American West (more than 4 million visitors each year).
Colorado, for millions of years, has dug this fabulous canyon.The Grand Canyon is an open book for geologists: the different rocky strata visible on the sides of the canyon represent a precise geological period. Those located at the bottom of the canyon were formed 2 billion years ago!
The Grand Canyon is living evidence of the power of water over a period of time. The power may not manifest immediately. Water can be very powerful, like a tidal wave.

– Frederick Lenz
I like to say that the Grand Canyon is like a reversed hill, with the colorado river at its top.
The park is a UNESCO World Heritage Site and the size of the Grand Canyon is absolutely colossal: 450 kilometers long between Lake Mead (west) and Powell Lake (east), varying in width 5.5 to 30 kilometers and a depth oscillating between 1300 and 2000 meters.
Photography wise the Grand Canyon gives you unlimited photo opportunities. Enjoy the full day visiting the different view points and stay for the sunset to catch the different shades of colours softly embracing  this huge canyon, a memory engraved forever.  Be careful when selfies, a ranger told me some 15 visitors per year die falling and don't forget to bring lots of water !
Link :